Skip to Content
What Is a Dental Implant?
We proudly Warranty all of our Dental Procedures, as long as Dental Cleanings are being performed Every 6 months, anywhere in the United States.* Implants - Lifetime and Crowns - 10 Years
Dental Implant
Fact Sheet
A dental implant is a small, permanent, titanium post placed in a person's lower and/or upper jaw to replace a missing tooth or teeth. The titanium post acts like a natural tooth root, and after the implant has healed, they may be used to hold a crown and support partial or full dentures. If done correctly, implants may last anywhere from a couple of decades to a lifetime, as long as a person flosses and brushes their teeth regularly, as well as maintain routine checkups with their dentist. Our dental implant dentists can determine if a patient is suitable for dental implants, and if so, may fit them with a natural, comfortable implant.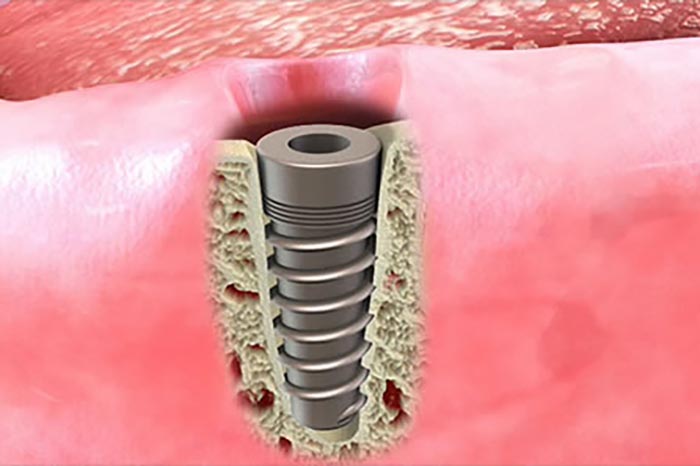 Types and Benefits of Dental Implants
There are two types of dental implants- endosteal implants and subperiosteal implants. Endosteal implants involve screws, cylinders, or blades being surgically placed into the jawbone. It is the most common type of dental implant and is used as an alternative for patients who have removable bridges or dentures. Subperiosteal implants are implants that are placed on the bone to hold the prosthesis.
A person who cannot wear dentures and has minimal bone mass in their jaw may wish to have subperiosteal implants. People who are in good general and oral health, as well as have adequate bone mass in their jaw, will most likely be the individuals who benefit from dental implants the most. A dentist from our office will review a patient's medical and dental history, and determine if a dental implant is best for them.
Different Dental Implant Options
Implant for Crown & Bridge
Helping Patients in San Jose, Santa Clara, Campbell & Los Gatos
Although it depends on the person, an individual may resume their normal eating habits about a week to 10 days after they have undergone a dental implant. If it is a simple dental implant placement, a person may have little or no post-operative swelling or pain. Our dental implant specialists may determine if a dental implant is right for you, and create a personalized care plan for the weeks following your implant procedure. Please contact our office if you have further questions or concerns!